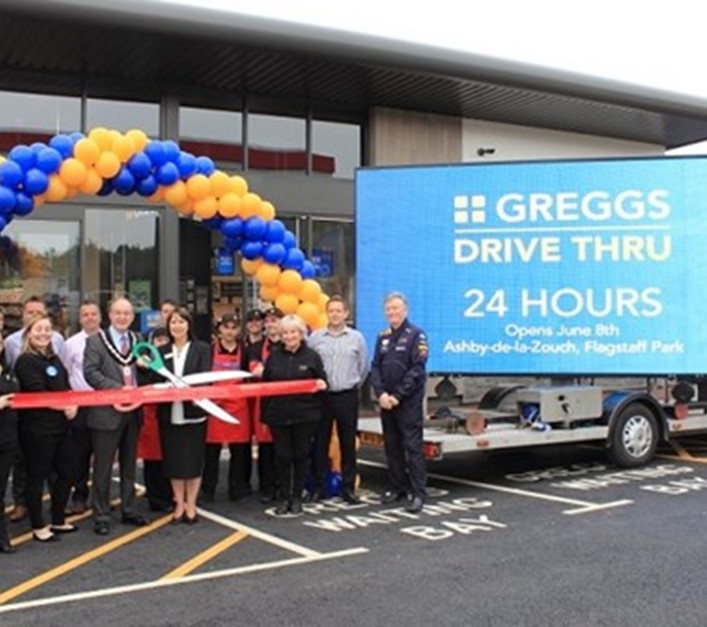 Achievement
First look at New Ashby Services
First look at New Ashby Services
The new Flagstaff Island services were officially opened by Roger Bayliss – Mayor of Ashby-de-la-Zouch – on Friday 8th June, welcoming customers for the first time. Cllr Bayliss cut the ribbon, opening new services include the UK's second ever drive-thru Gregg's, as well as Starbucks, KFC and Esso.
Located adjacent to Junction 13 of the A42, just outside Ashby de la Zouch, the new facilities offer motorists a place to rest, relax and refuel. In addition, Flagstaff Services will create around 100 new jobs once fully operational and will be staffed by local people.
Ilyas Munshi, Group Commercial Director at Euro Garages, said: "We are really proud of what we have delivered at Flagstaff Services, in what is an ideal location for roadside services. The opening weekend was a fantastic success and customers were impressed with the facilities on offer and the quality of the development.
"Our strong relationship with leading brands – including Starbucks, Esso and KFC – continues to underpin the attractiveness of Euro Garages' roadside services offer. We were also thrilled to open the second ever Gregg's drive-thru, which proved extremely popular with customers."
A Red Bull Formula 1 racing car was also featured during the opening weekend, along with an Esso blimp, which customers could take photos with.
Martin O'Dwyer, Sales Account Manager at Esso, said: "Having the Red Bull Car at the opening along with the Esso blimp, and being formally opened by the Mayor of Ashby, was extremely exciting and delighted customers who were visiting for the first time.
"We'd encourage all motorists to come and try out Flagstaff services and make use of some of our exciting modern technology such as the Esso App, which lets customers pay for their fuel remotely."
Jane Wheatley, Site Manager at Flagstaff Services, added: "The opening of Flagstaff Services marks the start of an exciting time for everyone in the Ashby team. We look forward to welcoming and serving our customers and are encouraging people to pop in and see what we have to offer."